Shared Case Management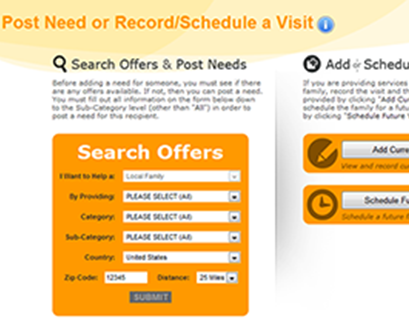 Manage Families You're Assisting
Record visits, track service history, & share family needs
For missions, homeless shelters, food banks, and most charities, their central purpose is to serve families in need. So keeping track of what they do for families is a core function. Meet The Need provides full Shared Case Management (SCM) functionality, including loading family and household information, recording visits, and running detailed reports. But since Meet The Need is about action, it does what other SCM systems don't – sharing family needs (anonymously) and even scheduling families for upcoming charity drives.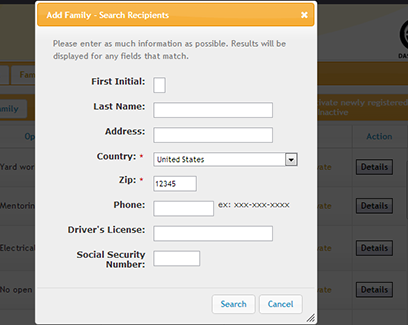 See Where Else Families Have Received Help
Collaborate as a community to avoid service duplication
Avoiding service duplication, stewarding limited resources, and most importantly, moving families toward healthy self-sufficient lifestyles are critical components of a comprehensive city-wide approach to the issues of poverty. To make meaningful progress, coordination and communication are critical. SCM facilitates collaboration in how charities and churches help families, but only if many charities and churches use the same system. That's why Meet The Need doesn't charge and limits data entry requirements for its state-of-the art SCM system.
Features
Meet The Need is the only shared case management system that provides solutions for all 3 of your family service options – and we do all that at no charge!:
1. Track Services You Provide that Day
Record family information and current visits
When a family walks in the door of your charity or church, you can search the local area to see where else the family has received help in the past. Then you can either load the family if they're not already in the system or update the record, including any assistance you provide to that family. You can even note referrals, quantities given, faith decisions, reasons why they came in, etc.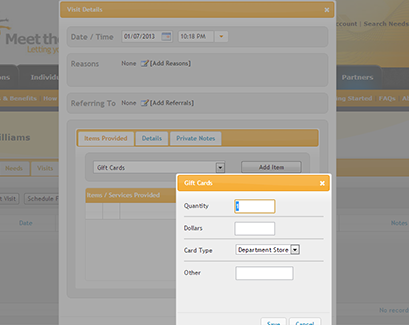 2. Share Family Needs You Can't Meet that Day
Instantly broadcast to local individual organizations and individuals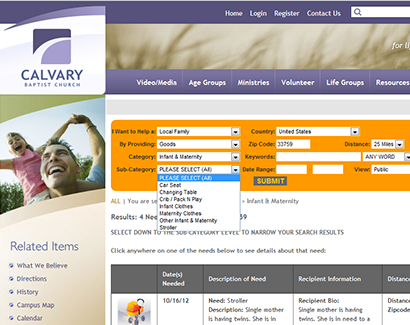 3. Schedule a Family for a Future Day
Run your toys, backpack or food drives without double-bookings
If you don't need to post the need because you have a drive coming up, you can schedule the family to come back at a future date. Meet The Need has built the first known collaborative Scheduling System for charity drives. Families won't be double-booked for the same drive at different distribution sites because you'll see that family is already scheduled elsewhere. Each family is given bar-coded sheets showing where to be and what they'll receive.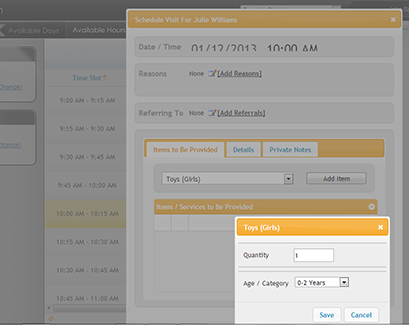 4. Track and Measure
Run detailed reports on service history, items given, demographics, etc.
Retain all family information for future use. See what you've done for each family and what individuals (e.g. from a local church) met their needs. Send automated confirmations and reminders. Make needs disappear from your web site when they're met and reappear after cancellations. Track what needs are still outstanding. Find out which families showed up for your charity drive. Produce (and export) standard and ad-hoc reports for any of that information.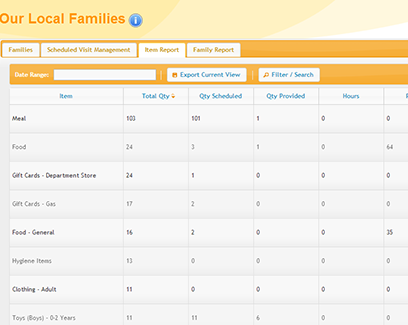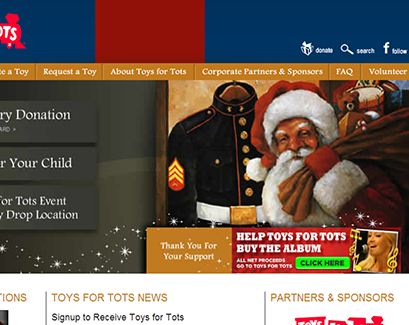 What People are Saying
"Meet The Need connects the community. Each provider has our own mission and focus. We all offer different things to those in need. Seeing what families have received from others allows us to put together a good case management plan to move them to self-sufficiency. As we all begin to unite in our service to others—including the local churches using Meet The Need—we can say we are not just 'handing out aid' but moving families to self-sufficiency."
Metropolitan Ministries (Tampa, FL) – Director of Outreach & Prevention Services
"Meet The Need has allowed us to expand registration, be more efficient and cost effective, and most importantly, cross check all applicants against the database to prevent double dipping and send those most in need to another local ministry where they can be better served. "
Toys for Tots (West Pasco County, FL) – Coordinator
See More...
FAQs
Q: How much does the in-kind donation module cost? A: There are no required fees. Our mission is to see churches and charities doing more to bring help and hope to families in need in their communities, so we offer you all of our state-of-the-art solutions at no charge. As a non-profit, we accept voluntary donations from churches, charities and individuals who share our mission.
See More...
Q: Does my staff need to be technically proficient to use Meet The Need? A: Not at all! There are no disks to load and very little training required. Everything is designed to be 1 click. Many small charities and churches have little "tech savvy", so we have to make Meet The Need simple to use and implement.
See More...
Q: How do we integrate Meet The Need into our web site or social media? A: It's as easy as connecting a link to a button. There's no software to load – no disks! All of our software is "plug and play" – that's how you can show resource needs within minutes, not hours.
See More...
Q: Is Meet The Need a clearinghouse? A: No. Charities don't need one more place to post needs. And churches and companies want to be in control of what needs they show to members. What they all lack are modern day tools to manage their charitable activities. So rather than create a central web site for everyone to post and find needs, we give you 5 private-labeled, access-controlled systems – everything you'll ever need to manage your own activities – while also connecting your organization with others in the community.
See More...