In-Kind Donation Management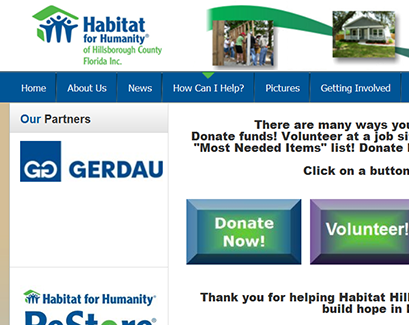 Get Resources Your Organization Needs
Communicate what items you need to those who have them
If someone at a church or company does somehow get the message about a local church's or charity's needs (or for a family they're assisting), how are they going to communicate it to those in the pews or on staff who could help - the pulpit, bulletin and company newsletter won't work. What if you could broadcast your needs to all those connected with your organization and to local church members and employees at local companies? With Meet The Need, you can!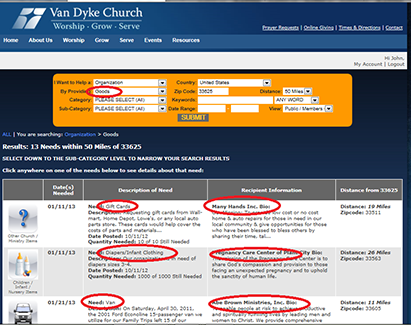 Move Resources to the Areas of Greatest Need
Get needed items out of warehouses or people's garages
Why isn't there a way for charities and churches to communicate with each other about their resource needs? You know that someone has what you need – if they were only aware of your needs, they would help. Imagine posting a need for items and having that need show up on many web sites and Facebook pages throughout the community, and emails going out to those who have a heart for the charitable work you do, letting them see and register to meet your resource needs.
Features
Provide an Online Shopping Experience
Let people view and meet your needs through your web site and social media
Add a "Most Needed Items" button to your web site and link on your Facebook page. When users click, they'll see each type of item you need, how many, and how soon. It may be toys for an upcoming charity drive, sound equipment for your church, food for your homeless ministry, etc. Visitors to your site, whether it's an individual or corporation, can sign up to bring the full amount of items you need or any portion. All of that looks exactly like your web site!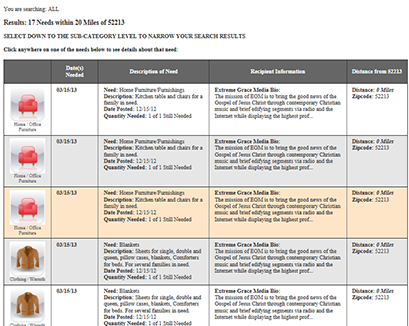 Share Your Needs with Others
Instantly broadcast to local individual organizations and individuals
When you post new resource needs, three things happen almost immediately: 1) They show up on your website and Facebook page, 2) Those same needs appear on the web sites of local churches and businesses using Meet The Need, and 3) Emails go out to those interested in your organization showing them those needs. They can sign up through any of those options and, again, it all looks like your web site!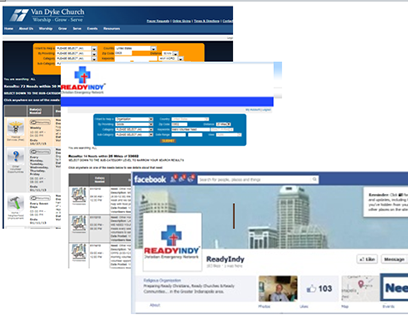 View and Follow up on Commitments
Automatic confirmations, reminders and updates
Do you ever get too few or too many items? How do you ensure that logistics are handled efficiently? How do you manage cancellations or no-shows? Through Meet The Need, send automated confirmations and reminders. Send updates that are customized for each need. Let online cancellations automatically make previously filled needs immediately reappear on your web site and Facebook page.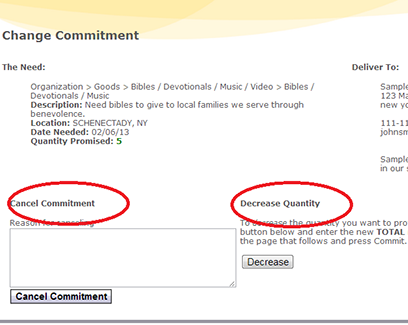 Track and Measure
Run detailed reports on commitment history and items received
On your Dashboard, see all contact information for everyone who's committed to meet one of your resource needs. See at any time how many items are still needed. Produce (and export) standard and ad-hoc reports showing all quantities of items given during any time period. Retain all of that information permanently.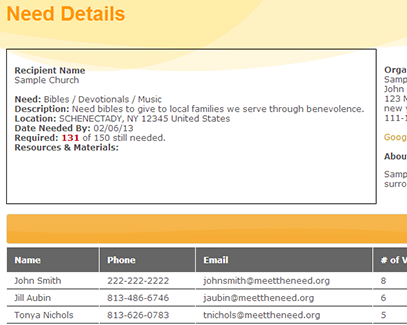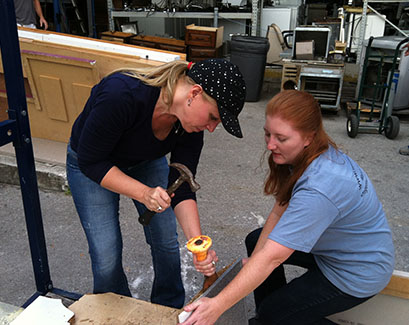 What People are Saying
"I have to tell you about what happened this weekend! We got to go to a big garage sale where everything was free and I got clothes and shoes...and we have plates to eat with now. My dad has shirts now that are the best! Why would people give these things away...good things?"
Second Grade Girl who had recently been homeless (McKinney, TX)
"With a small staff, we did not have the manpower to mobilize the local churches to action. Now, every time I post a need for the ministry of Habitat, I breathe a sigh of relief, knowing that I have shared our needs with the local churches and given them the opportunity to be the hands and feet of Christ!"
Habitat for Humanity (Hillsborough County, FL)
See More...
FAQs
Q: How much does the in-kind donation module cost? A: There are no required fees. Our mission is to see churches and charities doing more to bring help and hope to families in need in their communities, so we offer you all of our state-of-the-art solutions at no charge. As a non-profit, we accept voluntary donations from churches, charities and individuals who share our mission.
See More...
Q: Does my staff need to be technically proficient to use Meet The Need? A: Not at all! There are no disks to load and very little training required. Everything is designed to be 1 click. Many small charities and churches have little "tech savvy", so we have to make Meet The Need simple to use and implement.
See More...
Q: How do we integrate Meet The Need into our web site or social media? A: It's as easy as connecting a link to a button. There's no software to load – no disks! All of our software is "plug and play" – that's how you can show resource needs within minutes, not hours.
See More...
Q: Is Meet The Need a clearinghouse? A: No. Charities don't need one more place to post needs. And churches and companies want to be in control of what needs they show to members. What they all lack are modern day tools to manage their charitable activities. So rather than create a central web site for everyone to post and find needs, we give you 5 private-labeled, access-controlled systems – everything you'll ever need to manage your own activities – while also connecting your organization with others in the community.
See More...