Event Management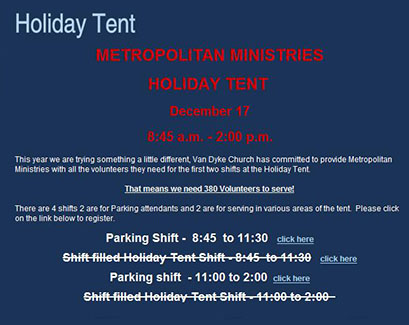 Your Own Event
Create, broadcast and manage your outreach events
In just a few minutes, completely organize your church's or charity's weekend of service, holiday drive or any other compassion event. No more sign up sheets or spreadsheets – instead, take registrations online, and sit back while automatic reminders, updates, cancellations, and reporting take care of the rest.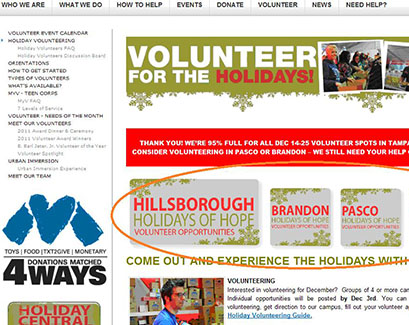 Multi-Organization Events
Finally – collaborative events made easy!
Without communication, there's no collaboration. Meet The Need is the first private-labeled event management platform that shares volunteer and resource needs across all participating organizations, and allows each one to create their own opportunities seen only by its "members". People from across multiple organizations view and sign up for the same opportunities – the days of "divide and conquer" are replaced by seamless collaboration..
Features
Quick Set Up
Set up your event & roles needed for each project
In just 10 minutes you can create a new event, set up 10 different types of volunteers and items needed, post needs for thousands of individuals and resources, and begin taking sign-ups on your web site and Facebook page! Post needs for recurring or one-time events. Then view all your projects, leaders, shifts, volunteers and supplies all on one access-controlled Dashboard.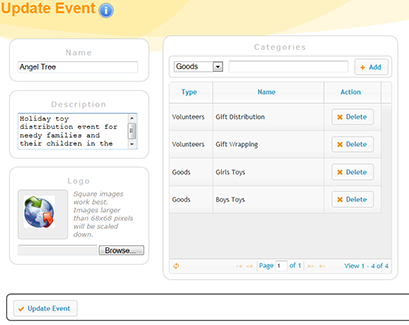 We are Your Event Button
Show volunteer & resource needs on your web site and social media
Meet The Need looks like you, not us! Just set up a button on your web site for the event, and from that point on the interface for registrations, reminders, updates, etc. will all look like your web site. Users won't see Meet The Need's heart for those in need, they'll see yours!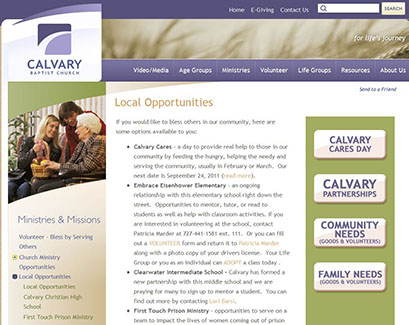 Share Instantly
Easily collaborate with partner organizations
Meet The Need entices other organizations to be part of your event by allowing them to plug in and benefit with little effort on their part. Show a wide variety of event opportunities and take registrations through the web sites of all partners, not just your own site. Then, track participation easily by each partner organization.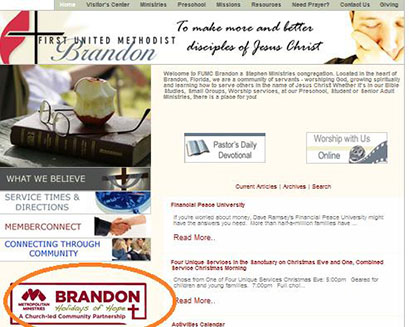 Communicate, Communicate, Communicate
Manage all team & volunteer logistics
With Volunteers Make sure everyone is where they need to be the day of the event. The system handles all automatic online confirmations, reminders, updates & cancellations.
With Event Leaders See all commitment information for individuals and groups. Monitor cancellations & reasons. View quantities still needed & adjust as necessary. Verify fulfillment of commitments.
With Upper Management Produce detailed reports showing how successful the event was. Standard and ad-hoc reports include volunteer hours and items provided over any time period, shift or location. Retain all information for future events.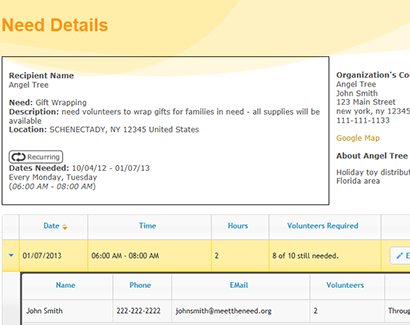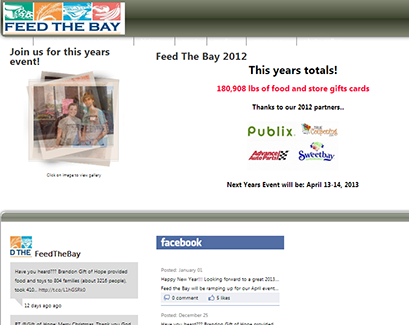 What People are Saying
"Meet the Need has proven to be one of the most useful ministry tools available for special event volunteer management. Feed the Bay was a multi-church initiative that provided 270,000 lbs. of food to food banks in the Brandon, FL community. As we planned for this event, we began to see the need for a viable way to manage the 800+ volunteers required to carry out such a huge task. Meet The Need provided an excellent resource for recruiting and communicating with volunteers."
Feed the Bay – Director
"Meet the Need was a critical resource for this effort, and mobilized over 800 volunteers for a single day of action. We received many of these volunteers at Metropolitan Ministries and were impressed by their passion for service and the structure that Meet The Need provided to communicate details. Many thanks to Meet the Need for a job well done!"
Metropolitan Ministries (Tampa, FL) – Director of Development
See More...
FAQs
Q: How much does the event module cost? A: There are no required fees. Our mission is to see churches and charities doing more to bring help and hope to families in need in their communities, so we offer you all of our state-of-the-art solutions at no charge. As a non-profit, we accept voluntary donations from churches, charities and individuals who share our mission.
See More...
Q: Does my staff need to be technically proficient to use Meet The Need? A: Not at all! There are no disks to load and very little training required. Everything is designed to be 1 click. Many small charities and churches and their volunteers have little "tech savvy", so we have to make Meet The Need simple to use and implement.
See More...
Q: How do we integrate Meet The Need into our web site or social media? A: It's as easy as connecting a link to a button. There's no software to load – no disks! All of our software is "plug and play" – that's how you can show event needs within minutes, not hours.
See More...
Q: What types of event needs can I post? A: You can create your own categories of the specific types of goods or volunteers you need based on location, skill set, people group, etc. Then begin posting the needs (i.e. shifts, quantities) for each category you created..
See More...